Bambi Tencel Plant Fibre Baby Pillow
Quick Overview
Natural Tencel fibre pillow for babies
Low profile pillow, baby friendly, skin-friendly and allergy sensitive
Highly moisture absorbent compared to cotton
Easy to care
Bambi Tencel Plant Fibre Baby Pillow
The Bambi Baby Tencel Plant Fibre Toddler Cot Pillow, made of natural fibre, is a good choice for toddlers. This low profile cot pillow is baby friendly, skin-friendly and a healthier first pillow for little ones as it is bacterial resistant, allergy sensitive and highly moisture absorbent. The Tencel Blend pillow has a soft and sumptuous feel - with the natural softness of Tencel.
Features
Tencel pillow:100% Tencel, making it a very flat pillow and ideal for a cot with a pure Tencel cover
Warmth - it has a higher thermal insulation than wool and down
Moisture management: providing a pleasantly dry sleeping climate - absorbs and dissipates 50% more moisture than natural cotton
Naturally anti-bacterial and hypo-allergenic: due to the moisture management of TENCEL® - it doesn't provide a habitat for mites or bacterial growth
Static Free: the moisture level in Tencel is 13% compared to 1% in polyester - making it a static-free fibre without any electrostatic build up, allowing you absolute relaxation and your muscles to regenerate at night.
Asthma and allergy friendly
Easy to care: spot clean and air regularly
Size: 44 x 36 x 5 cm
Advantages of Tencel Fibre
Tencel® is derived from plantation timber
Tencel® has a high moisture absorption and dispersion - 50% greater than cotton
Tencel® is a healthy option - Bacteria multiplies 200 TIMES SLOWER than on Polyester
Tencel® is the perfect natural solution for hot sleepers
Ensure your baby's comfort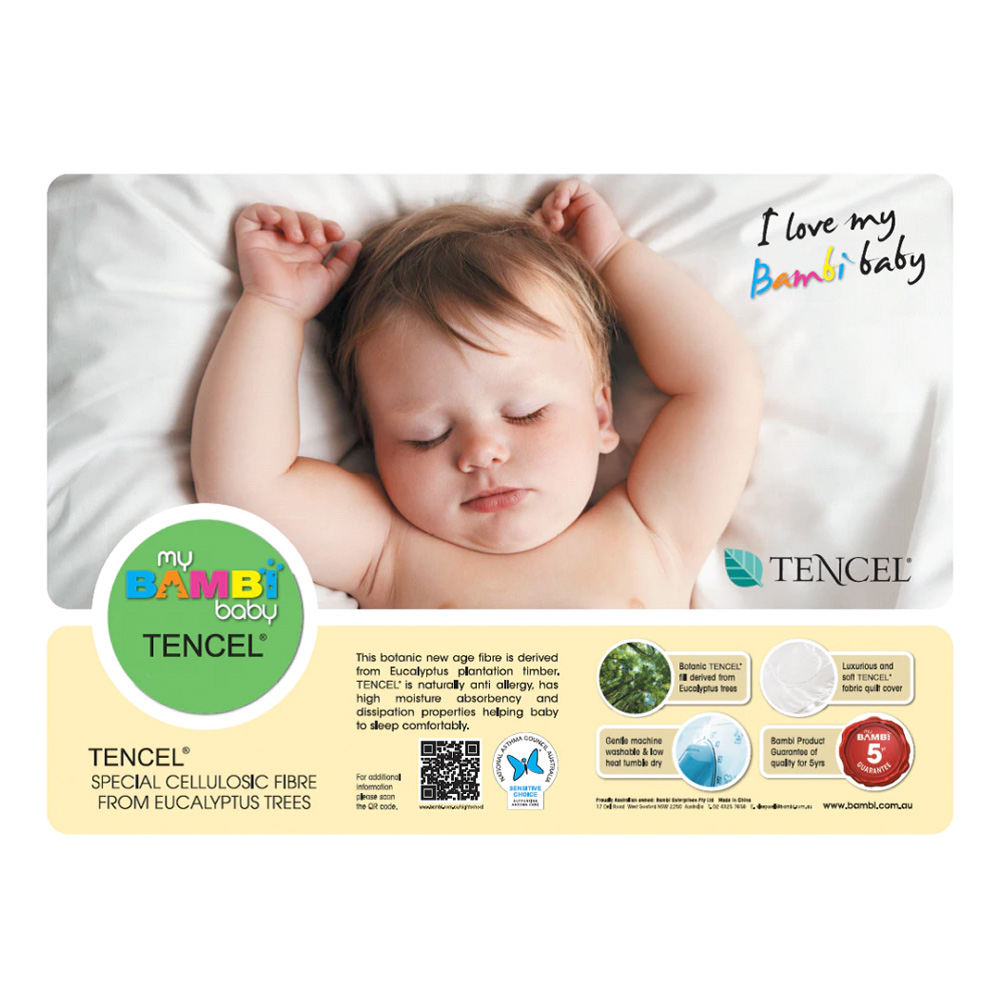 May increase your baby's relaxation and comfort while sleeping. It is Eco-friendly and hypoallergenic which is perfect for babies. Comes in white & silver colour options.
$16.50
About Bambi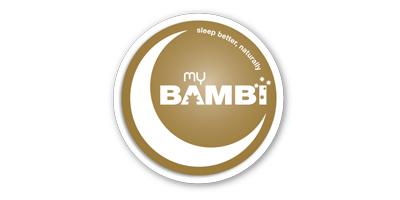 About Bambi
An Australian-owned, Australia-made family company founded more than 30 years ago in New South Wales, Bambi is a leading manufacturer of quality bedding products - helping Australian families enjoy better sleep for over three decades. An award-winning company, Bambi is dedicated to exceptional quality and innovation in bedding.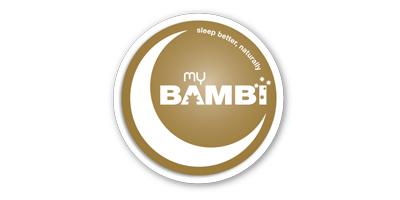 More Information

| | |
| --- | --- |
| Pillow Size | Baby |
| Fill Type | Tencel |
| Children | Toddler & Baby Pillows |
| Shape | Classic |
| Cover | 100% Tencel |
| Material | 60% Tencel / 40% high performance fibre |
| Manufacturer's Warranty | 2 Years |
| Manufacturer | Bambi |
Customer Reviews
Share your thoughts with other customers
Good pillow but made in China

The pillow is very soft and perfect size for toddler. Even though the brand says Australian made & owned, tag on the pillow says Made in China which was disappointing. (Posted on 21-09-2020)

Good for young baby

Not thick but right for a young baby, he's 8 months and sleeps well on the pillow. (Posted on 12-08-2020)

Great pillow for tummy/back sleeper

I had tried so many different baby/toddler pillows for my then 3 year old son who is a tummy/back sleeper, but he thought they were all too big. He will still only sleep with this pillow even though he is 5.5 years old! (Posted on 11-12-2019)

Lovely, but too small.

Lovely quality, far too small. It doesn't fit any of my cot pillowcases and you can't wash it.
________________
Sleep Solutions - we also sell Bambi's Tencel pillowcases tailored to fit this pillow (Posted on 17-10-2019)

Great quality, but too small.

The quality of the pillow is lovely, but the pillow size is tiny. It doesn't fit any of the cot pillow cases I have and my little miss falls if it. I would go straight for the toddler pillow. (Posted on 12-10-2019)
Write Your Own Review for Bambi Tencel Plant Fibre Baby Pillow
BmbiTnclBbyPllw