Bambi Baby Tencel Plant Fibre Cot Quilt
A soft to touch quilt that is naturally lightweight, warm, breathable, easy care, hypo allergenic, anti-bacterial - ideal for baby's delicate skin.
Size - 100 x 130 cm
Fill - 100% Tencel
Cover - 100% Tencel
Guarantee - 5 years
Care - Gentle machine washable / tumble dry
Asthma and Allergy Friendly
Don't let allergies prevent your children from getting a good night's sleep. This quilt is suitable for Allergy and Asthma sufferers.
Tencel
TENCEL® is a fiber that comes from nature and has some properties that makes it ideal choice for a toddler's first quilt.
Warmth - it has a higher thermal insulation than wool and down
Moisture management - providing a pleasantly dry sleeping climate - absorbs and dissipates 50% more moisture than natural cotton.
Naturally anti-bacterial and hypo-allergenic - due to the moisture management of TENCEL® - it doesn't provide a habitat for mites or bacterial growth
Static Free - the moisture level in Tencel is 13% compared to 1% in polyester - making it a static-free fiber without any electrostatic buildup -allowing you absolute relaxation and your muscles to regenerate at night.
Asthma & Allergy Friendly
Ensure your baby's comfort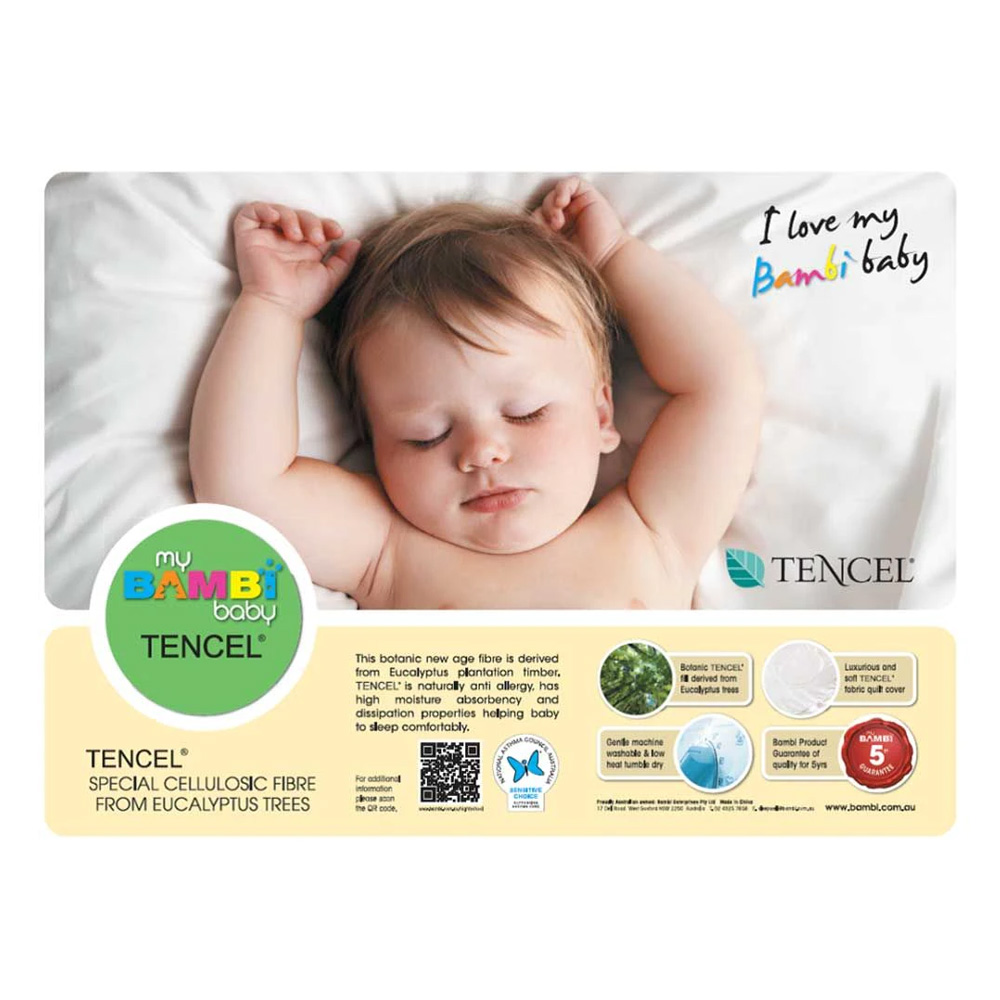 Increase your baby's relaxation and comfort while sleeping with this quilt cover that is eco-friendly, hypoallergenic and ultra-comfortable. Made specifically for baby quilts - measures 100 x 130cm.
$79.95
About Bambi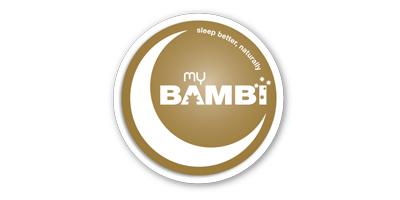 About Bambi
An Australian-owned, Australia-made family company founded more than 30 years ago in New South Wales, Bambi is a leading manufacturer of quality bedding products - helping Australian families enjoy better sleep for over three decades. An award-winning company, Bambi is dedicated to exceptional quality and innovation in bedding.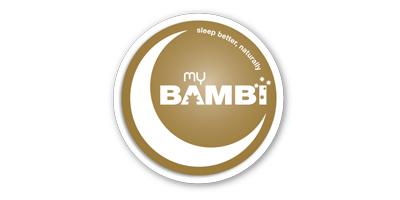 | | |
| --- | --- |
| Children | Toddler & Baby Quilts |
| Quilt Size | Cot |
| Warmth | Autumn, Spring |
| Care Instruction | Machine Washable, Tumble Dry |
| Fill Weight | N/A |
| Cover | 100% Tencel |
| Material | 100% Tencel |
| Manufacturer's Warranty | 5 Years |
| Manufacture | N/A |
| Manufacturer | Bambi |
Customer Reviews
Share your thoughts with other customers
J
Review by
Jess
Verified Review
Great Product
This quilt is great quality for a really reasonable price. I highly recommend the quilt and also sleep solutions. It was a quick easy purchase and I received my parcel within a couple of days
(Posted on )
T
Review by
Tim
Verified Review
Gorgeously soft and super warm
Love this Doona, my little man is now sleeping warm and safe Sleep Solutions were great I originally ordered the wrong thin through their ebay store then ordered the quilt on this site and it was not problem for them they cancelled my other order and sent the quilt straight to us. Thanks Guys good to know there are still decent retailers out there.
(Posted on )
J
Review by
Jessica
Verified Review
Great product, quick delivery
Sleep Solutions restored my faith in internet shopping. After a less than satisfactory customer experience at another site, I was pleasantly surprised when my order arrived quickly and it was exactly what I wanted! The quilt is so soft! Can't wait to try it out with my little one when its gets colder.
(Posted on )
Write Your Own Review for Bambi Baby Tencel Plant Fibre Cot Quilt
sleepsolutions.com.au
About this page
Store ratings are based on customer reviews and other data from Google and/or its partners.
Information on shipping, returns, and support is based on customer reviews and surveys, and sometimes provided directly by sellers. Learn more
Based on customer reviews and data from Google and/or its partners.
What people are saying
2 days ago on Google Customer Reviews

4 days ago on Google Customer Reviews

Great customer service , along with prompt delivery of a quality product. Veery pleased Sleep Solutions accept Pay Pal also.

1 week ago on Google Customer Reviews

The Services is professional excellent, thank you ! However this time the products very disappointing (Sound Oasis SP-101), its volume is too small must turns on all sound volumes to maximal (on TV & Speakers) just able to hear small sound, not efficient design né, what can I do ? ????????) . I prefer Pillow Speaker PS-300 (I bought separately) excellent product ! Thank you. ????????????

1 week ago on Google Customer Reviews

Love my new eye mask! Came quick as too

1 week ago on Google Customer Reviews