Bambi Protectiva Luxury Waterproof Tencel Mattress Protector
Quick Overview
A luxurious mattress protector, suitable for Allergy and Asthma sufferers
Soft, crinkle-free with a waterproof breathable membrane
Outer casing made with Tencel, quickly absorbs moisture
Compatible to use with an electric blanket
Available in sizes: Single, Long Single, King Single, Double, Queen, King and Super King
Bambi Protectiva Luxury Waterproof Tencel Mattress Protector
The Bambi Protectiva Luxury Waterproof Tencel Mattress Protector features a waterproof breathable membrane to keep out the nasties - ensuring you get a great nights sleep. It is soft, crinkle free - meaning it won't keep you awake at night and provides stain & waterproof protection to your mattress and also features waterproof sides. The outer casing is made with Tencel which naturally absorbs moisture and then releases the moisture back into the environment keeping your comfortable all night long.
COMFORT
Whisper quiet, soft-to-touch sleep surface. Ideal for a peaceful slumber.
STAINPROOF
The perfect safeguard against spills, sains and dustmites.
PROTECTION
'New-Age' waterproof membrane with deep-fitted skirt.
HEALTH
Natural, eco friendly, breathable Eucalyptus fibre. Ideal for allergy and asthma sufferers.
GUARANTEE
MACHINE WASH
TUMBLE DRY
WATERPROOF
ASTHAMA & ALLERGY FRIENDLY
Note: Compatible to use with an electric blanket. Put the mattress protector on the mattress first and then the electric blanket. It is also advised just to protect the mattress protector is to put a sheet between the mattress protector and the electric blanket.
Also comes in a convenient Long Single size suitable for modern Split King Beds
TENCEL® naturally absorbs moisture and quickly releases it again. This property guarantees a pleasantly dry sleeping climate. In contrast polyester does not absorb moisture at all. In the case of polyester, moisture remains on the fiber as a surface film. Moisture cannot be transported into the fiber of polyester as opposed to TENCEL®.
TENCEL® quickly absorbs and then releases moisture back into the environment.
50% higher moisture absorption capacity when compared with cotton
Regulates the climate
The best moisture management
Asthma and Allergy Friendly - Prevents Mould & Dust Mite Growth - No Chemicals Required
TENCEL® does not give bacteria a chance to grow.
When moisture is produced it is directly absorbed from the skin and transported inside of the fiber. Thus no water film is produced on the surface where bacteria could grow.
Due to TENCEL®'s excellent moisture absorption and management:
mould development is prevented
dust mites growth in bedding is prevented
Bacterial growth is prevented in a completely natural way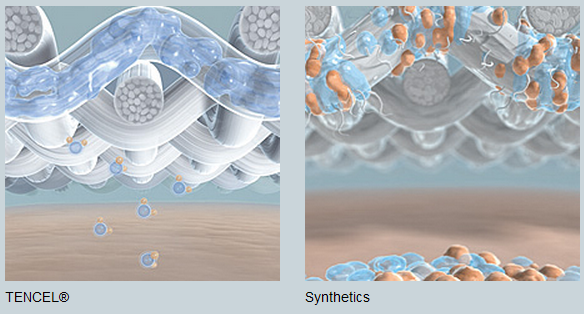 Eco Friendly - Natural Fiber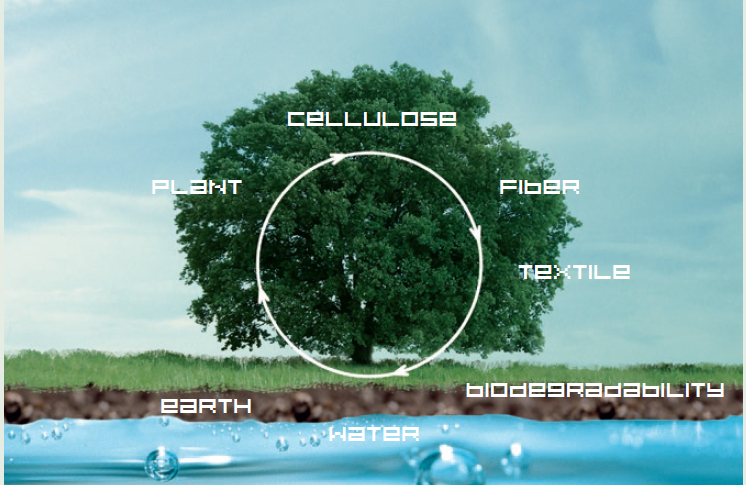 The manufacturing process of TENCEL® has an extremely low impact on the human environment when it is produced.
TENCEL® fiber comes from Nature - extracted from Eucalyptus wood.
Sustainable forestry Eucalyptus plantations are used for the production of TENCEL®.
The yield of TENCEL® is on average 6 times higher than cotton.
Cotton agriculture needs up to 20 times more water than TENCEL®.
| | |
| --- | --- |
| 40 cm Skirt | Stretches to approx. 55cm |
| Manufacturer's Guarantee | 10 Years |
| Care | Gentle Machine Washable / Tumble Dry |
| Suitable for Allergy and Asthma Sufferers | |
Size
Dimensions
Single
92 x 188 cm
Long Single
(suits Split King Beds)
92 x 203 cm
King Single
107 x 203 cm
Double
137 x 188 cm
Queen
153 x 203 cm
King
183 x 203 cm
Super King
204 x 204 cm
Other Products in the Range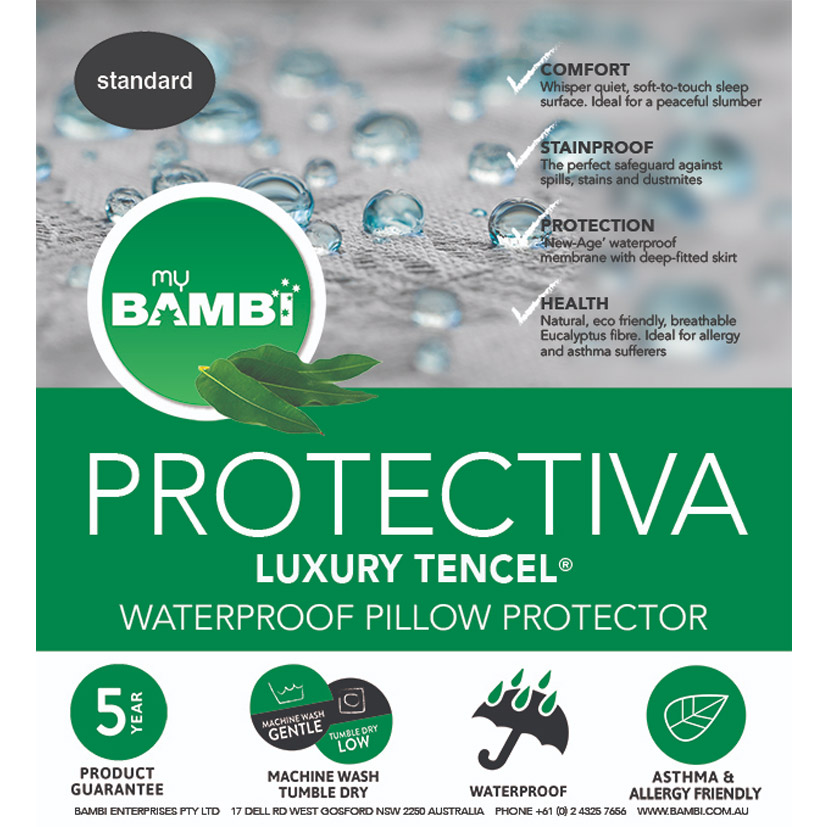 More Information

| | |
| --- | --- |
| Mattress Size | Single, King Single, Long Single, Double, Queen, King, Super King |
| Material | Waterproof breathable membrane and Tencel cover |
| Care | Gentle machine washable / tumble dry |
| Manufacturer's Warranty | 10 Years |
| Ebay Department | Bedding |
| Ebay Model | Bambi Protectiva Luxury Waterproof Tencel Mattress Protector |
| Ebay Type | Mattress Protector |
| Manufacturer | Bambi |
Customer Reviews
Share your thoughts with other customers
Great!

No wet mattress for the first time in forever... I will keep testing and if it holds up I will be replacing my son's mattress finally... I will definitely be buying another one of these - highly recommend! (Posted on 07-09-2021)

Seems fine so far, thanks.

Seems fine thanks. (Posted on 04-09-2021)

Bambi Protective Luxury Tencel Mattress Protector

Fits the King Single perfectly. Doesn't bunch up or make a noise. Haven't noticed if it's extra warm as only just began using it this winter. Price was reasonable as the original one cost us double that. We are very happy with this. (Posted on 12-07-2021)

Very happy

I'm very happy with this product. I'm a warm sleeper but it doesn't make my bed feel hotter and there is no crinkly sound either. It fits my mattress well and I've tested it by pouring water on it and the water didn't soak through and reach my mattress so I feel confident that it's protecting my mattress. (Posted on 11-09-2020)

Works perfectly

Is definitely waterproof, and so far has not felt like the bed is any hotter with it on. No sound with movement. It is a bit big for the King sized mattress and it lost a star because it is considerably more expensive that many others we researched. But I guess worth the money if it works! (Posted on 30-08-2020)
Write Your Own Review for Bambi Protectiva Luxury Waterproof Tencel Mattress Protector
TencelLuxuryMProtector