Bambi Protectiva Waterproof Bamboo Towelling Pillow Protector With Size Options
Quick Overview
Helps to extend the life of your pillows
The soft and absorbent bamboo towelling top layer locks in moisture
The waterproof barrier prevents damage to your pillows
Available in Standard (72x46cm) or Euro (67x67cm)
Bambi Protectiva Waterproof Bamboo Towelling Pillow Protector
The Bambi Protectiva Waterproof Bamboo Towelling Pillow Protector helps you to safeguard your bedding with comfortable, breathable, quiet and care-friendly protection. The eco-friendly fabric has a natural fibre top layer and is sensitive skin friendly. It is also the ideal choice for sufferers of allergies and asthma.
It features an environmentally friendly bamboo towelling top layer and a waterproof membrane.
Features and Benefits
Size - Standard (72 x 46 cm) or Euro (67 x 67 cm)
Manufacturer's Warranty - 5 years
Upper layer - Bamboo towelling fabric
Lower layer - Crinkle-free waterproof PU backing
Care - Fully machine washable and can be tumble dried on low heat
Suitable for Allergy and Asthma Sufferers
The best way to care for your pillows
The ultimate in softness and strength, the Bambi Protectiva Bamboo Pillow Protector keeps sleeping surfaces clean and extends the life of your pillows. These super comfortable pillow protectors are made with a top layer of 100% bamboo pile towelling and a crinkle-free, waterproof membrane beneath, so the feel of your pillows are preserved.
Convenient and durable to suit your entire family
The Bambi Protectiva Bamboo Pillow Protector comes with built-in stain resistance and waterproof technology. These pillow protectors are clean, comfortable, and safe enough for children, while also perfect for sleepers of every age to keep pillows clean and help them last longer. The soft and absorbent bamboo pile towelling locks in moisture, while the waterproof barrier prevents damage to your pillows.
For your convenience, Bambi Protectiva Bamboo Pillow Protectors are machine washable and dryer safe. They're available in standard pillow size and euro pillow size, and completely cover the pillow for maximum protection.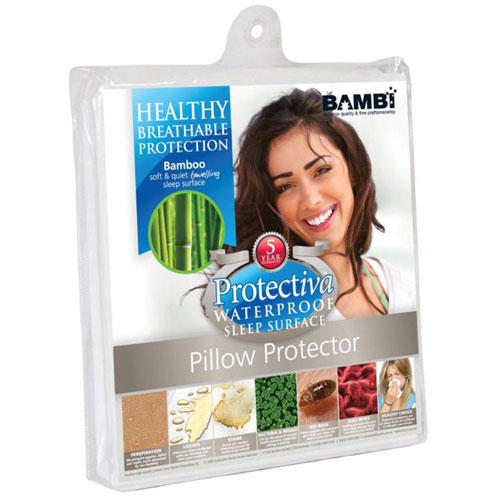 A healthy choice in sleep solutions
For sensitive sleepers with allergies or asthma, the Bambi Protectiva Bamboo Pillow Protector makes for more restful nights. All Bambi sleep products are hypoallergenic and safe. In addition to their waterproof liquid barriers that handle spills, accidents, and even perspiration, these pillow protectors are resistant to common irritants and allergens including mould, bacteria, and dust mites.
An Australian-owned, Australia-made family company founded more than 30 years ago in New South Wales, Bambi is a leading manufacturer of quality bedding products - helping Australian families enjoy better sleep for over three decades. An award-winning company, Bambi is dedicated to exceptional quality and innovation in bedding.
More Information

| | |
| --- | --- |
| Material | Bamboo towelling top layer and a waterproof membrane |
| Care | Machine wash / tumble dry |
| Manufacturer | Bambi |
Customer Reviews
Share your thoughts with other customers
Pillow Protector Bambi

Good quality just need to be careful with the zipper. (Posted on 08-12-2014)
Write Your Own Review for Bambi Protectiva Waterproof Bamboo Towelling Pillow Protector With Size Options
BambiTowelPP