Bambi 100% Tencel Quilt 300 to 730gsm Options
From
Regular Price
$289.00
$260.00
Quick Overview
This is a quilt that will change the way you sleep - helping you regulate your temperature and moisture - keeping you warm and dry
Allergy Sensitive Quilt has luxurious look and feel with the natural softness of Tencel
Australian Made
The Bambi Tencel Quilt are naturally lightweight and luxurious to touch. They are breathable, washable, naturally hypo-allergenic and anti-bacterial. Tencel Quilts are perfect for people that suffer from allergies and asthma and also for hot sleepers, as Tencel is a naturally cool fibre. Tencel quilts are very lightweight and have virtually no loft, so are perfect for people who are looking for warmth without weight.
TENCEL® is a fiber that comes from nature and has some properties that makes it ideal choice for your quilt and pillows:
Warmth - it has a higher thermal insulation than wool and down
Moisture management - providing a pleasantly dry sleeping climate - absorbs and dissipates 50% more moisture than natural cotton.
Naturally anti-bacterial and hypo-allergenic - due to the moisture management of TENCEL® - it doesn't provide a habitat for mites or bacterial growth
Static Free - the moisture level in Tencel is 13% compared to 1% in polyester - making it a static-free fiber without any electrostatic buildup -allowing you absolute relaxation and your muscles to regenerate at night.
Asthma & Allergy Friendly - The Allergy Sensitive Quilt has luxurious look and feel with the natural softness of Tencel
Indulge yourself every night with these sumptuous quilts which will drape neatly over your body minimizing air pockets. The perfect all rounder quilt you can use all year! Don't let your allergies prevent you from getting a good night's sleep.
Specifications:
Fill: 100% TENCEL®
Cover: 100% TENCEL®
Guarantee: 5 years
Care Gentle machine washable / tumble dry
Suitable for Allergy and Asthma Sufferers
Australian Made
TENCEL® naturally absorbs moisture and quickly releases it again. This property guarantees a pleasantly dry sleeping climate. In contrast polyester does not absorb moisture at all. In the case of polyester, moisture remains on the fiber as a surface film. Moisture cannot be transported into the fiber of polyester as opposed to TENCEL®.
TENCEL® quickly absorbs and then releases moisture back into the environment.
50% higher moisture absorption capacity when compared with cotton
Regulates the climate
The best moisture management
Asthma and Allergy Friendly - Prevents Mould & Dust Mite Growth - No Chemicals Required
TENCEL® does not give bacteria a chance to grow.
When moisture is produced it is directly absorbed from the skin and transported inside of the fiber. Thus no water film is produced on the surface where bacteria could grow.
Due to TENCEL®'s excellent moisture absorption and management:
mould development is prevented
dust mites growth in bedding is prevented
Bacterial growth is prevented in a completely natural way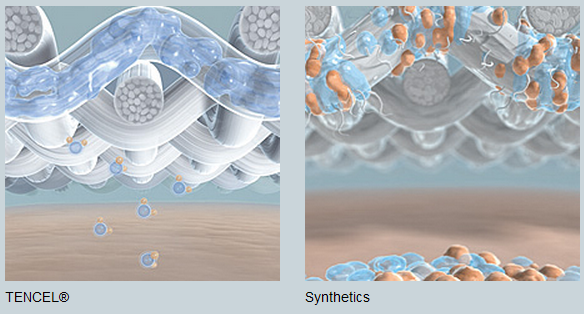 Eco Friendly - Natural Fiber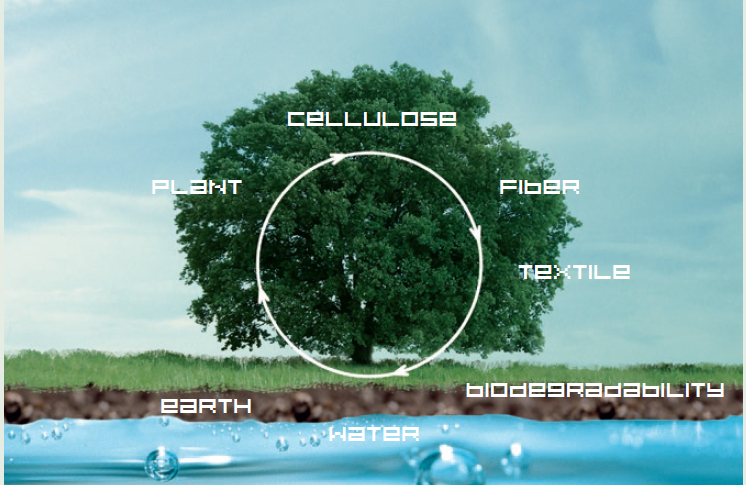 The manufacturing process of TENCEL® has an extremely low impact on the human environment when it is produced.
TENCEL® fiber comes from Nature - extracted from Eucalyptus wood.
Sustainable forestry Eucalyptus plantations are used for the production of TENCEL®.
The yield of TENCEL® is on average 6 times higher than cotton.
Cotton agriculture needs up to 20 times more water than TENCEL®.
Sensitive Choice
Sensitive Choice is a community service program created by the National Asthma Council Australia for all of us who want to breathe purer, cleaner, fresher air and reduce asthma and allergic reactions.
The program is of particular value to the millions of Australians and New Zealanders with asthma and the one in five of us who have allergies. While the Sensitive Choice program and the products approved do not claim to offer cures or treatment for such conditions, they conscientiously strive to help cleanse and purify the personal environments in which we all live and breathe.
Bambi Ecorenew quilts
Proudly Australian-made, these pure new age natural fibre quilts are super absorbent, soft and smooth, comfortable, easy care and earth friendly.
Ecorenew Tencel® quilts and Ecorenew Ingeo™ quilts are both Sensitive Choice approved.
Ecorenew products are extremely light and soft, giving you warmth without weight. They breathe naturally for freshness and comfort, are hypoallergenic and anti-bacterial and are machine washable and stain resistant.
The Tencel® botanic fibre provides excellent moisture absorption – up to 50% more than cotton, enabling a healthier more stable sleep. It is luxurious to touch and is naturally anti-allergy.
Benefits
Naturally anti-allergy and anti-bacterial
Eco-friendly botanic fibres derived from plantation sources.
Naturally breathable, gentle to skin
High moisture dispersion (ideal for hot sleepers)
| Specifications | |
| --- | --- |
| Light Loft | 300 gsm - Warmth Equivalent 1-2 Blankets |
| High Loft | 430 gsm - Warmth Equivalent 2-3 Blankets |
| Super Loft | 500 gsm - Warmth Equivalent 3-5 Blankets |
| All Seasons | Comes with 2 quilts: a High Loft (430 gsm) and a Low Loft (300 gsm) quilt. The quilts can be used separately or velcroed together to create an extra warm quilt (730 gsm). |
| Size | Dimensions |
| --- | --- |
| Single Size Quilt | 140 x 210 cm |
| Double Size Quilt | 180 x 210 cm |
| Queen Size Quilt | 210 x 210 cm |
| King Size Quilt | 245 x 210 cm |
| Super King Size Quilt | 270 x240 cm |
More Information

| | |
| --- | --- |
| Quilt Weight | 300 GSM, 430 GSM, 500 GSM, 730 GSM |
| Quilt Size | Single, Double, Queen, King, Super King |
| Warmth | Summer, Autumn, Spring, Winter, Four Seasons |
| Care Instruction | Machine Washable, Tumble Dry |
| Fill Weight | 300, 430, 500 gsm, All Seasons options |
| Cover | 100% TENCEL® |
| Material | 100% TENCEL® |
| Manufacturer's Warranty | 5 years |
| Manufacture | Australian Made |
| Manufacturer | Bambi |
Customer Reviews
Share your thoughts with other customers
Good doona. Thinner and denser than I expected. Probably not as warm as I was hoping.

I appreciated everyone's reviews when making my decision, so I'll provide some detail here.

I wanted to do away with heating my bedroom during the night. But even with my old doona plus five blankets, plus multiple layers of pyjamas, I was still waking up cold. I decided I would invest heavily in a high quality doona and hopefully deal with the issue once and for all.

I bought the All Seasons Queen variety, and tossed this up against a heavy down one. I chose this one ultimately because it gave me the flexibility of three different weights of doona for the different seasons.

I had the idea, because I have been camping in my down sleeping bag in cold weather and have stayed very warm, that it should be possible to be very warm under a premium doona without any heating and perhaps even with normal pyjamas rather than multiple layers.

The doona arrived yesterday and I tested it overnight by having a window completely open all night with no heating. The internal air temperature would have been about 8 degrees. I wore fewer layers than usual.

Part way into the night I realised I was very warm, and decided to remove my bed socks to see if I'd stay warm. I ended up a little cooler than comfortable. So, at 8 degrees, I still need to wear some heavy pyjamas to stay warm. But overall a big improvement to my experience.

One thing I didn't consider before was that the weight of the doona is a big advantage. My old doona would let draughts in around the edges all the time because it just wasn't heavy enough to seal itself around the edge. I feel much better protected with this doona.

A high quality doona to be sure. I'm still left wondering though whether I would have been more comfortable with a down one. I guess I'll never know. I'd recommend this one nonetheless. (Posted on 19-08-2020)

Tencel quilt

Beautiful and soft. Very lightweight, wish i had bought the combined quilt as i need extra blankets on bed as not as warm as previous wool quilt. Very pricey but few quilts cater to children with allergies to synthetics.....his allergy seems to have improved so happy with purchase. (Posted on 21-07-2020)

Too Heavy

I am very disappointed in this quilt as very expensive but just too heavy to manage - unfortunately I cannot return it - so a waste of big $. Suggest sleep solutions note the weight so people are aware how heavy it is. Have invested in a silk doona now and that at least is not as heavy.

____________________________
Sleep Solutions - you ordered the All Seasons quilt - which consists of two quilts - a 300gsm and a 430 gsm quilt - which clip together to create a 730gsm quilt. So the gsm - designates grams per square meter - which is the weight per square meter. So all 500 gsm rated quilts will roughly weigh the same amount - no matter the fill or brand. 500 gsm is a typical winter weight where 730gsm is a very warm and heavy quilt which some people love. You should find you will still get use out the of the lighter individual 300gsm and 430gsm quilts quilts in the spring, autumn and summer. (Posted on 06-07-2020)

500gsm

As expected, good quality. Ordered one for my son followed by another one 2 weeks later for my daughter. Doing the Melbourne winter just fine (Posted on 03-07-2020)

Light, warm, easy to wash

Good replacement for my feather donna to which I had developed an allergy. Living in Tassie I bought the All Seasons which is two donnas that clip together. Being autumn I have the High loft out fully and the low loft on top of it but folded back to keep my feet extra warm. ( I use to shake the feathers of my doona down the bottom in summer and was use to the warmth there.) I have folded two sheets over the All Seasons like they do in the hotels instead of a regular cover. One suggestion is, I would like the donnas to be labeled with their loft, because I found it difficult to work out the high loft one from the low loft after I had washed them. I had to work out which was the heavier. The All Seasons wraps around me just like my former feather one, is not heavy and I'm very pleased with my choice. (Posted on 23-04-2020)
Write Your Own Review for Bambi 100% Tencel Quilt 300 to 730gsm Options
BambiTencelQuilt