Mije Baby Head Rest Flat Head Pillow Peach
Reduce the pressure on your baby's head
Flat Head Syndrome most frequently occurs when a baby develops a preferred head position and as a result the back or side of the skull becomes mis-shapen from the constant pressure on one spot.
The simple concave design of the Mije Baby Head Rest helps reduce the pressure on a baby's head that causes the flat spot condition in young infants.
Made from shape memory foam with a soft cotton cover, this head rest is the ideal shape to support a baby's head and reduce the risk of Flat Head.
Gently cradle baby's head
The Baby Head Rest can be used in a variety of places: in the cot with the baby positioned on their back, playing on the floor, in a stroller or even in a car seat.
The flat head pillow does not restrict the natural movement of a baby's head. The Mije Baby Head Rest is recommended for newborns 0-4 months of age or until the baby has begun to roll. It should only be used while the baby is on their back.
The baby head rest is not a traditional pillow and does not lift baby's head. Rather, it provides gentle cradling to eliminate pressure on the skull.
Using the Mije baby head rest from day one may dramatically reduce the risk of baby developing flat-head syndrome and the need for corrective treatment, such as helmet therapy.
If within 4 months of birth, a flat spot is detected, the baby head rest may prevent it from worsening and can often correct the condition.
Seek medical advice about any change in your baby's head shape.
More Information on Baby Head Shape and Flat Head in Babies
For more information about what is flat head syndrome, causes and how to prevent flat head in babies (click here) please look at the information provided on The Royal Childre's Hospital Melbourne website.
Care information
Do not immerse the Baby Head Rest in water as this will harden the memory foam. Hand spot clean only.
To better protect the Baby Head Rest use the washable cover which can be machine washed
Baby Head Rest Accessories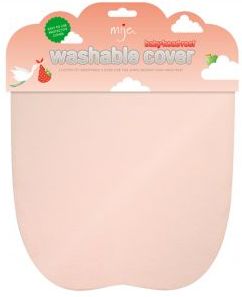 Also available in White and Green
| | |
| --- | --- |
| Pillow Size | Flat Head |
| Children | Toddler & Baby Pillows |
| Fill Type | Memory Foam |
| Pillow Type | Baby Head Cradle |
| Manufacturer | Mije |
Customer Reviews
Share your thoughts with other customers
M
Review by
Mari-Linda Jeftha
Verified Review
Not too bad
If the baby is in the cot and wedge then its 100% fine. He doesn't stay on the pillow when hes in the rocker and without the wedge. But its ok so far
(Posted on )
T
Review by
Tammy
Verified Review
Questionable
Unfortunately baby just moved her head off it. Perhaps the hole needs to be different sizes?
(Posted on )
K
Review by
Kristy
Verified Review
Highly recommend must have!!!
Highly recommend I have used for my 2 kids and given as gifts to many friends and everyone has loved it keeps babies heads perfect shape!! It's definitely a must have!!!
(Posted on )
A
Review by
Ashleigh
Verified Review
Not worth the money
My little one's head doesn't stay in the hole and she continues to turn her head to the side although using this product. Such a waste of money. I am very disappointed considering how much money I spent on it
(Posted on )
A
Review by
Alex
Verified Review
Works wonders
Absolutely amazing. Have had it for a week and already made a huge difference
(Posted on )
Write Your Own Review for Mije Baby Head Rest Flat Head Pillow Peach
sleepsolutions.com.au
About this page
Store ratings are based on customer reviews and other data from Google and/or its partners.
Information on shipping, returns, and support is based on customer reviews and surveys, and sometimes provided directly by sellers. Learn more
Based on customer reviews and data from Google and/or its partners.
What people are saying
2 days ago on Google Customer Reviews

4 days ago on Google Customer Reviews

Great customer service , along with prompt delivery of a quality product. Veery pleased Sleep Solutions accept Pay Pal also.

1 week ago on Google Customer Reviews

The Services is professional excellent, thank you ! However this time the products very disappointing (Sound Oasis SP-101), its volume is too small must turns on all sound volumes to maximal (on TV & Speakers) just able to hear small sound, not efficient design né, what can I do ? ????????) . I prefer Pillow Speaker PS-300 (I bought separately) excellent product ! Thank you. ????????????

1 week ago on Google Customer Reviews

Love my new eye mask! Came quick as too

1 week ago on Google Customer Reviews