Night Shift Snoring Aid Sleep Positioner
Quick Overview
Uses vibrations to train sleepers to sleep on their sides
Simple solution to solve a difficult problem
Trials have shown it to be effective in reducing snoring
Comfortable to wear and easy to use
Night Shift Sleep Positioner
Helping you get your best sleep
Sleep is crucial to restoring the body's health and the brain's functioning—but, too often, the valuable sleep you need is interrupted by breathing difficulties. Snoring and sleep apnea deprive the brain of oxygen, causing painful, jerking awakenings and broken sleep cycles. Sleeping on your back is more likely to obstruct airways, increasing the likelihood of disruptions, yet it is nearly impossible to control what your body does while you are asleep.
Create a more pleasant sleep environment for you and your partner
Use the Night Shift to reduce your snoring and mid-sleep waking
Get a full night's sleep for a more rested tomorrow.
The Night Shift uses vibrations to encourage sleepers to roll off their backs.
The Night Shift is an innovative device that, when worn around the neck during sleep, monitors sleeping positions and then vibrates with increasing intensity until the wearer shifts.

Through continual use, your body learns to respond to smaller and smaller vibrations and minimizes the amount of time spent on your back or trying to roll there. It waits 15 minutes before beginning its tracking, giving you time to fall asleep naturally in whatever position you find comfortable.
While the Night Shift may sound obtrusive, it has been designed for comfort. The adjustable neck strap is made of silicone, so it is soft and non-abrasive against your skin.

The buckle functions with a quick release magnet, ensuring you cannot be trapped or strangled by the device during the night.

The Night Shift technology perfectly times the vibrations to occur immediately after you shift positions; it also notes what level of vibration you respond to and adapts accordingly, using the mildest motion that provokes a reaction.
The rechargeable battery lasts up to three nights between charges, and can charge via your computer or a USB wall plug. All the information the Night Shift collects is downloadable via the same USB port; from the NightShift website, you can view and print reports on your sleep positions, how loud you snore, and how well you are sleeping.

View your personal reports on the NightShift website by day, month, or year, enabling you to learn your sleep habits and see firsthand the difference the NightShift makes. Trials have shown a significant reduction in the volume of snoring and the amount of back-sleeping when using the device.
If you suffer from mild to moderate sleep apnea, or snoring that disturbs you and others, the Night Shift is a simple solution to what can seem like an overwhelming problem.
Caution:
Not suitable for people who:
Have Cardiac Arrhythmia corrected with an artificial pace-maker
Have a skin sensitivity or an open wound around their neck
Have a neck size that is very small (less than 30 cm) or very large (greater than 55 cm)
Sleep with their head in a near-upright position
people who suffer from tic or tremors of the head
Night Shift Reference Material
Warranty
Neck Strap – 6 Months
Motors and Battery – 12 months
Workmanship and Electronic Problems – 24 months
Inclusions
Night Shift Sleep Positioner Device
Night Shift Strap with magnetic clasps
9" (23 cm) USB charging/data cable
User Manual
Carrying Case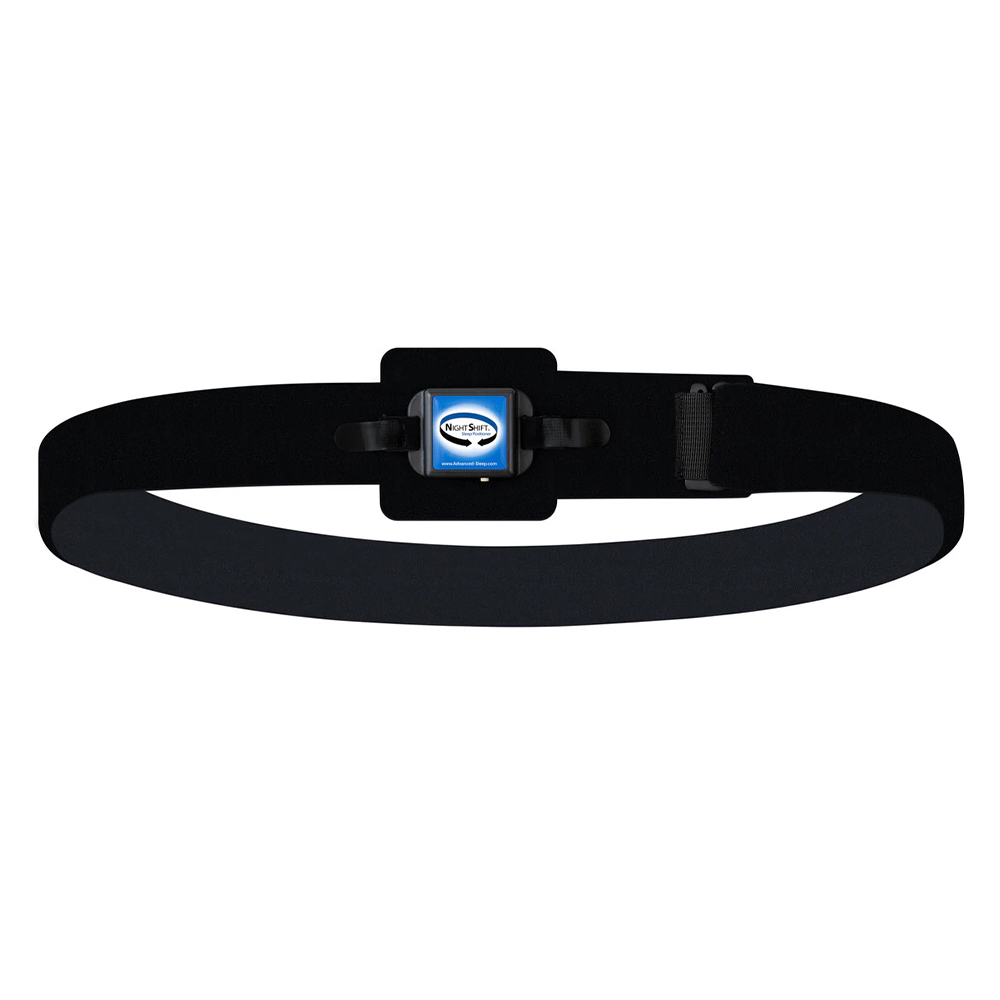 Chest Belt for your Night Shift Device
$70.00
Customer Reviews
Share your thoughts with other customers
Useful device

This Night Shift sleep positioner does effectively train me to remain on my side whilst sleeping. My sleep quality seems to be improving. (Posted on 10-03-2021)

The device is helping me to sleep.

Very good (Posted on 06-03-2021)

Life changing!

Has worked wonders and enabled me to get off the CPAP. I check the reports to ensure I am below 10% snoring levels. (Posted on 21-01-2021)

Night Shift

I have been using this device for some 5 or so years. It is still functioning perfectly. It certainly stops me sleeping on my back. Tests showed I only had apnea's when lying on my back. It has maybe reduced my snoring but not stopped it. I have to trust it has stopped my apnea's. I could not tolerate a CPAP machine so this is my only option. (Posted on 23-11-2020)

Help me to sleep better.

Great product have recommended that my GP offer this product for other patients who need this type of product thank you. (Posted on 26-10-2020)
More Information

| | |
| --- | --- |
| Manufacturer | Advanced Brain Monitoring |
| Manufacturer's Warranty | Neck Strap – 6 Months | Motors and Battery – 12 months | Workmanship and Electronic Problems – 24 months |
Customer Reviews
Share your thoughts with other customers
Write Your Own Review for Night Shift Snoring Aid Sleep Positioner
NS-2701