Philips White Series 1000 Air Purifier
Quick Overview
Suitable for bedrooms or average sized rooms up to 19 m2
Reduces allergens, pollen, pet dander, house dust mites, gases, and odors and captures up to 99.97% of particles as small as 0.3 microns from the air that passes through the filter
Whisper quiet, making it ideal for small to medium size rooms such as your bedroom
Philips White Series 1000 Air Purifier
With cutting-edge sensing and purification technology, the Philips Air Purifier Series 1000 is proven to reduce allergens, gases, odors, and even certain bacteria. The pre-filter and True HEPA filter remove particles. The Active Carbon filter reduces gases and odors.* This multi-stage active filtration system captures up to 99.97% of particles (as small as 0.3 microns) that pass through the filters
Air Quality Solutions for Cleaner Air at Home
It removes particles, allergens, harmful gases, and maintain optimal humidity levels. That includes particle matter like pollen, pet dander, and mould spores, as well as harmful gases like TVOC and odours.
Superior Purification
Vitashield IPS with its aerodynamic design and NanoProtect Pro Filter has a boosted clean air delivery rate up to 270 m3/hr. It can effectively remove ultra-fine particles as small as 0.02um. Also it filters out harmful gases such as formaldehyde and TVOC.
Special Auto Mode Effectively Removes Pollution
The smart air sensor can detect PM2.5 levels and boost the air purifier's speed to deal with the pollution. Indoor PM2.5 levels can increase far above local guidelines because of outdoor pollution or daily activities like cooking, cleaning etc.
Quieter and Constant Clean Air Delivery During Sleep
Night sensing mode is developed especially for your bedroom; The air purifier rapidly prepares your bedroom air for sleep and constantly monitors your bedroom air quality, delivering clean air while you sleep. The dimmed and/or switched off lights and the low sound help you and your family sleep better.
Healthy Air Protect Alert
The healthy air protect alert lets you know promptly when it is time to replace the filter. If the filter is not replaced promptly, the appliance stops functioning - to avoid ineffective purification. So you are assured of healthier air always.
Real-time Air Quality Feedback
The color ring on dashboard provides a clear view on air quality by 4-step color, ranging from blue (good allergen & particle level) to red (bad allergen & particle level)
Sensitive Choice
The Philips range of Air Purification products has been approved by the National Asthma Council Australia Sensitive Choice® program, to give you peace of mind that such products may be better choices for people with asthma and allergies.
True Hepa Air Purifier reduces allergens, pollen, pet dander, house dust mites, gases, and odors and captures up to 99.97% of particles as small as 0.3 microns from the air that passes through the filter
Professional-grade air quality sensor detects even the slightest change in indoor air quality and auto-adjusts the fan speed to maintain clean air
Active Carbon filter with real carbon particles absorbs odors, gases, and VOCs that pass through it
3 automatic purification settings: a General mode, an extra-sensitive Allergen mode, and a NightSense mode that automatically turns down the lights and fan speed when the room is dark
Whisper quiet, making it ideal for small to medium size rooms such as your bedroom
How does air purification work in my home?
Philips Air Purifiers have 3 filters to filter 99.97% of particles. First, A pre-filter captures large particles like hair and dust. Then, the activated carbon filter absorbs harmful gases such as TVOC, smoke and odours.

Lastly, the HEPA-13 filter captures ultrafine particles unseen by the human eye such as PM2.5, pollen and dust mites.
Technical Specifications
Room size
Up to 19m2
CADR (Smoke)
270m3 per hour
Filters out PM2.5
99.9 %
Filters out viruses
99 %
Dimensions
54.1 cm (Height) x 32.5 cm (Width) x 21.1 cm (Depth)
Product weight
6.7 kg
Energy consumption
50 watts
Sound level
33 dB(A)
Filter replacement indicator
Yes
Air Quality sensors
Yes - Particle Sensors
Control Panel Type
Touch
Filter replacement indicator
Yes
Speed control options
1 - 2 - 3 - Turbo
Filter
True Hepa (Grade H13) captures up to 99.97% of particles as small as 0.3 microns

Active Carbon filter with real carbon particles absorbs odors, gases, and VOCs that pass through it
How Long Do the Air Purifier's Filters Last?
Filters usually need to be changed every 12–18 months. Filter lifetime will vary depending on the quality of the air in room as well as how long the purifier is turned on.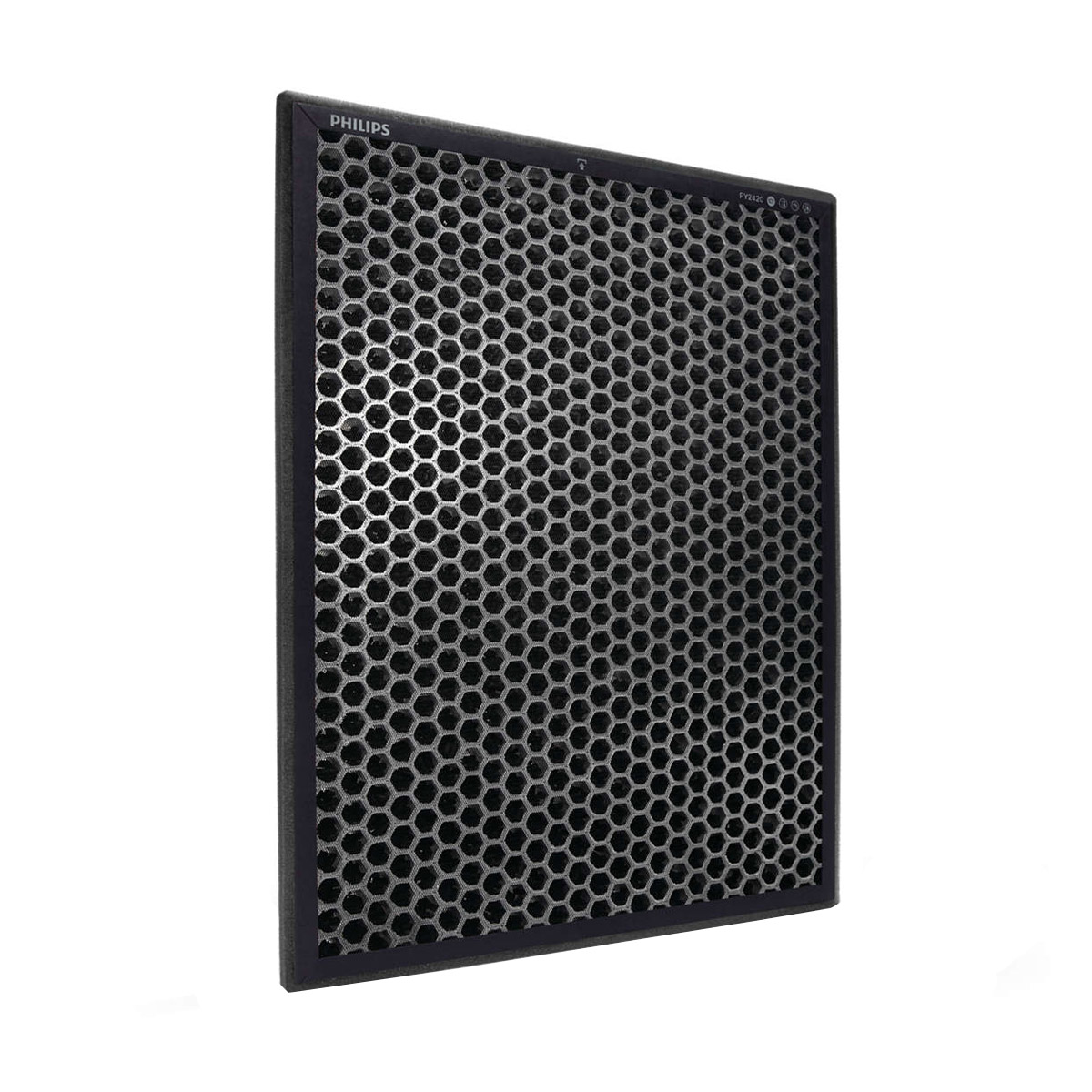 Compare Philips Air Purifier Models
Philips Series 800
Philips Series 1000
Philips Series 2000
Philips Series 3000
Capacity (m2)
Small room
(up to 20)
Small room
(up to 19)
Small room
(up to 16)
Medium room
(up to 31)
Weight (kg)
2.4
6.7
7.7
9.8
Clean Air Delivery Rate (m3/hr)
190
270
344
393
Settings
Manual 1-2-3
(Sleep, Speed 1, Turbo)
Manual 1-2-3 & Turbo
(3 automatic modes w/ NightSense)
Auto AeraSense sensors
(3 auto modes and 5 manual settings)
Auto AeraSense sensors
(3 auto modes and 5 manual settings)
Filter Replacement (months)
Particle filtration (12)
Hepa filter (12), Active Carbon filter (6)
Hepa filter (24), Active Carbon filter (12)
Hepa filter (24), Active Carbon filter (12)
Dimensions (cm)
25 x 25 x 36.7
54.1 x 32.5 x 21.1
61.2 x 41.2 x 29.4
54.1 x 32.5 x 21.1
View
You are viewing this product
View
View
More Information

| | |
| --- | --- |
| Coverage Area | Up to 19m2 |
| HEPA Filter | Yes - True Hepa Air Purifier |
| Carbon Filter | Yes - Active Carbon Filter |
| Other Filters | NanoProtect Pro Filter |
| Timer and Speed Controls | 1 - 2 - 3 - Turbo |
| Dimensions | 54.1 cm (Length) x 32.5 cm (Width) x 21.1 cm (Height) |
| Manufacturer's Warranty | N/A |
| Other Air Purifiers | Air Purifiers |
| Manufacturer | Philips |
Customer Reviews
Share your thoughts with other customers
Awesome to find a product that actually works

I have asthma and I left the unit on one overnight and I woke up breathing better than I have ever have. I Recommend this product to anyone that has any breathing issues. (Posted on 17-09-2021)

Definitely makes a difference

Has helped to keep the room clean and comfortable given the length of time spent in it these days. Can breathe easy. (Posted on 28-08-2021)

Wonderful appliance. Really efficient and trouble free.

Purchased this in December last year when the air was smoke filled. Had people staying with me and we virtually lived in a pleasant 'bubble' of clean air during those few weeks of smoke in the air. It's also made the air in my house so much better picking up dust and other irritants. It doesn't like the smell of bacon! (Posted on 16-12-2020)

Simple solution for my allergies

Since i started using the air purifier I now wake up without a blocked nose and no itchy eyes. A better solution than taking anti histamines. (Posted on 12-07-2020)

Excellent Product for removing smoke drift

I live in an old apartment complex and the smoke drift from other residents pours into my living space. This air purifier effectively removes their smoke. I also use it in the bedroom at night. The night mode is super quiet and the air flow is still effective enough to keep the air clear and fresh. I would recommend this product. (Posted on 03-07-2020)
Write Your Own Review for Philips White Series 1000 Air Purifier
AC1215 70