Bucky 40 Blinks Plum Sleep Mask
The Plum design 40 Blinks Sleep Mask features a popular design that is one of our best selling masks.
Adjustable straps to fit any head size
Deep moulded cups allow you to blink freely
Ultralight design blocks light fully and gently hugs the face without pressure
Hypoallergenic and hand washable
Helps with insomnia and other sleep disorders
Eyelash extension friendly
Bucky 40 Blinks Plum Sleep Mask
Deep sleep or daydreams... anytime, anywhere.
The 40 Blinks Sleep Mask range is stunningly designed and exudes modern design with functionality. It has been rated #1 by Good Housekeeping Magazine and have been featured in the Hit TV show "BONES". These masks are definitely fashion, function & fun! They feature striking prints and designs that make this sleep mask a definite fashion statement.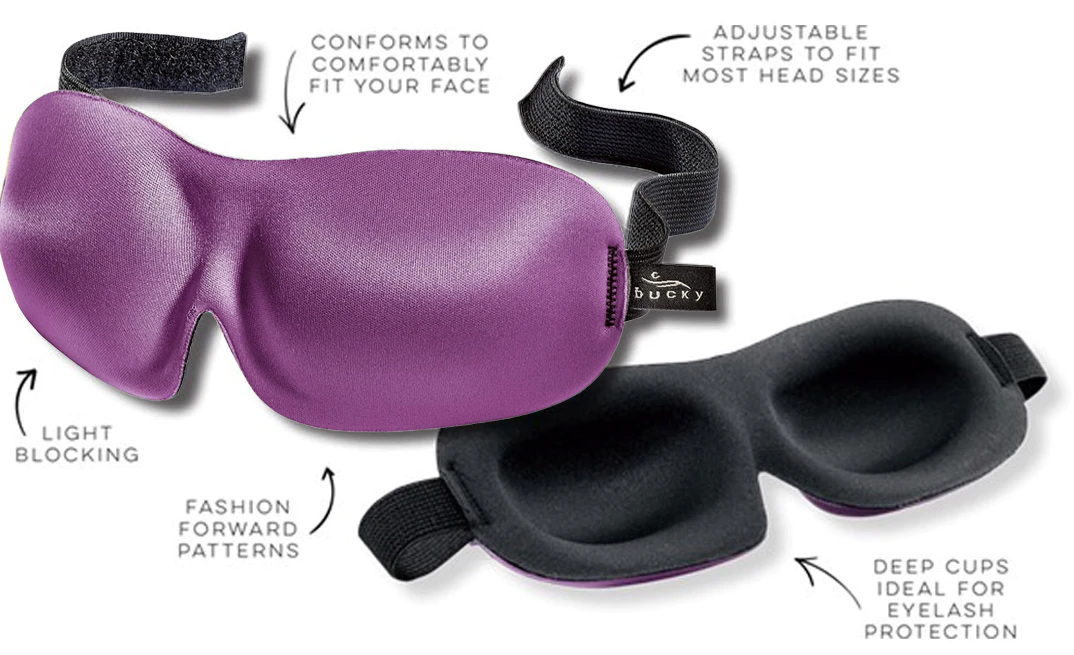 Lightweight
Cool
Adjustable straps fit any head size
Hand washable, hang to dry
Whether you are travelling and need a travel mask, need a sleep mask at home to block evening light from a partner reading in bed, or just want to avoid an early morning wake-up call from light filtering into your bedroom - you'll just love these eye shades. The 40 Blink Masks are moulded from an ultralight foam and contoured to take pressure off the eyes while providing smudge-free eye comfort, while blocking the light.
Specification
40 Blinks masks are latex and PVC free
Cover/backing is made from 100% polyester
Interior: polyurethane foam
Size: 23 cm x 10 cm
Weight: 37 grams
| | |
| --- | --- |
| Manufacturer's Warranty | 6 Months |
| Manufacturer | Bucky |
| Sleep Mask Type | Eyelash Friendly |
| Fabric | Cover/backing: 100% Polyester / Interior: polyurethane foam (latex and PVC free) |
| Adjustable | Adjustable velcro straps |
| Care | Hand washable, hang to dry |
| Inclusions | N/A |
Customer Reviews
Share your thoughts with other customers
C
Review by
Christie
Verified Review
Great
Excellent for lash extensions, good light block out.
(Posted on )
N
Review by
N/A
Verified Review
Fabulous!
Highly recommended for those who find light an issue when sleeping! Blocks out the light completely and so comfortable to wear!
(Posted on )
Review by
Janice Savage
Verified Review
Coming apart at the seams!!!!
This product was purchased as a replacement. I bought one (different pattern) about April and it was 5stars for everything untill it started to seperate and eventually the lining and main mask parted company - s real shame but I'm willing to take the risk as it is brilliant otherwise-soft, comfy and completely light proof.
(Posted on )
Review by
Janice Savage
Verified Review
A great gift for a fellow traveller
I gave this as a gift and my friend loved it
(Posted on )
Write Your Own Review for Bucky 40 Blinks Plum Sleep Mask
sleepsolutions.com.au
About this page
Store ratings are based on customer reviews and other data from Google and/or its partners.
Information on shipping, returns, and support is based on customer reviews and surveys, and sometimes provided directly by sellers. Learn more
Based on customer reviews and data from Google and/or its partners.
What people are saying
2 days ago on Google Customer Reviews

4 days ago on Google Customer Reviews

Great customer service , along with prompt delivery of a quality product. Veery pleased Sleep Solutions accept Pay Pal also.

1 week ago on Google Customer Reviews

The Services is professional excellent, thank you ! However this time the products very disappointing (Sound Oasis SP-101), its volume is too small must turns on all sound volumes to maximal (on TV & Speakers) just able to hear small sound, not efficient design né, what can I do ? ????????) . I prefer Pillow Speaker PS-300 (I bought separately) excellent product ! Thank you. ????????????

1 week ago on Google Customer Reviews

Love my new eye mask! Came quick as too

1 week ago on Google Customer Reviews