Downia Silver Collection 85% White Goose Down Pillow
85% down cluster cased in a soft down proof cotton cover
Hypo-allergenic & asthma friendly - Endorsed by the Asthma and Respiratory Foundation of New Zealand
Fully washable
Down proof cotton cover
Walled for extra loft
Downia Silver Collection 85% White Goose Down Pillow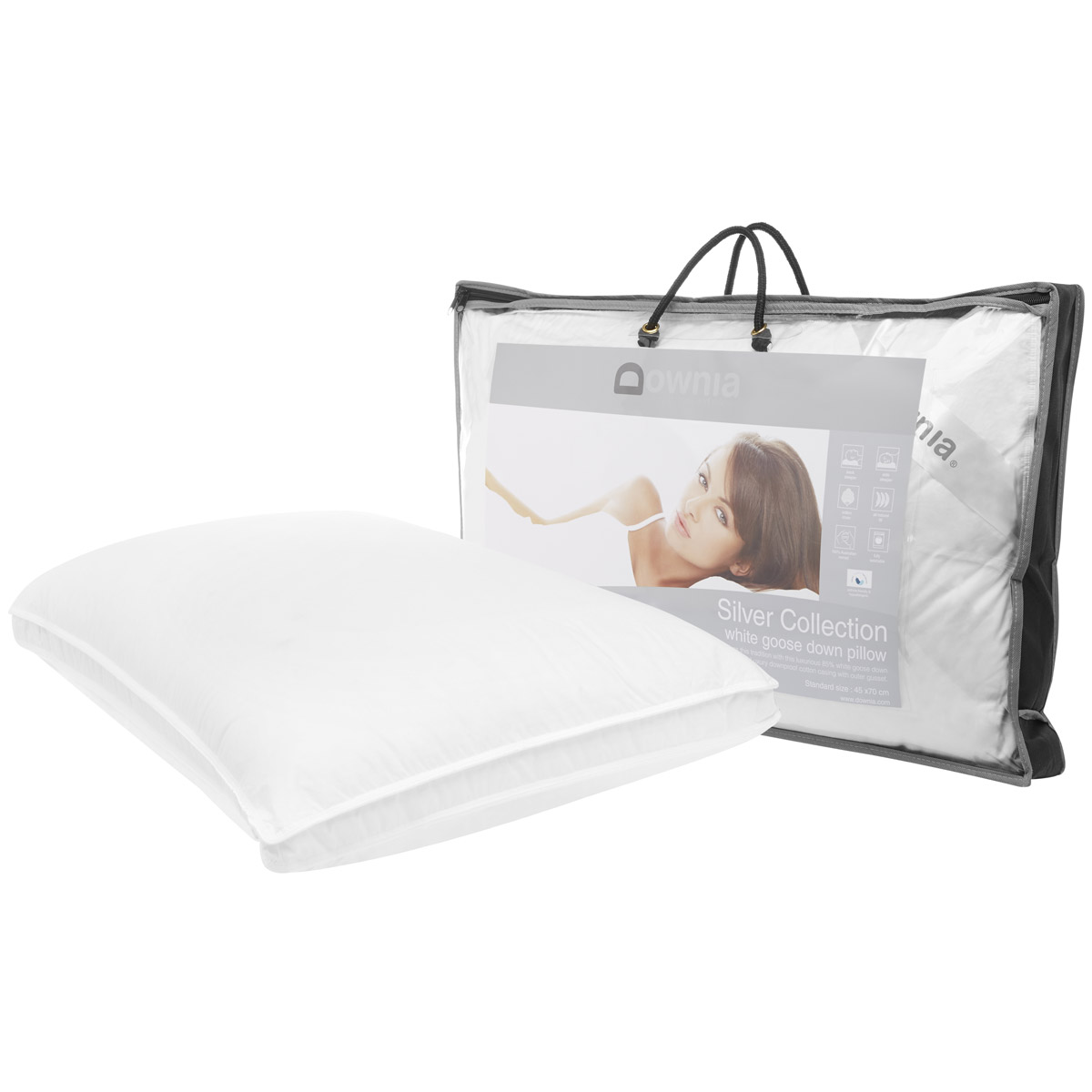 Luxurious - Soft - Asthma Friendly
Indulge yourself every night with this sumptuous and decadent white goose down pillow. This luxury silver goose down pillow features a minimum of 85% down cluster cased in a soft down proof cotton cover. The pillow has an outer wall for extra loft and to provide support and comfort for you neck and head.
Filling - White goose down & feather
Thread Count - 280 TC downproof cotton cover
Size - Standard 45 x 70 cm
This pillow is ideal for:
Front Sleeper
(Soft Profile)
Back Sleeper
(Medium Profile)
Side Sleeper
(Firm Profile)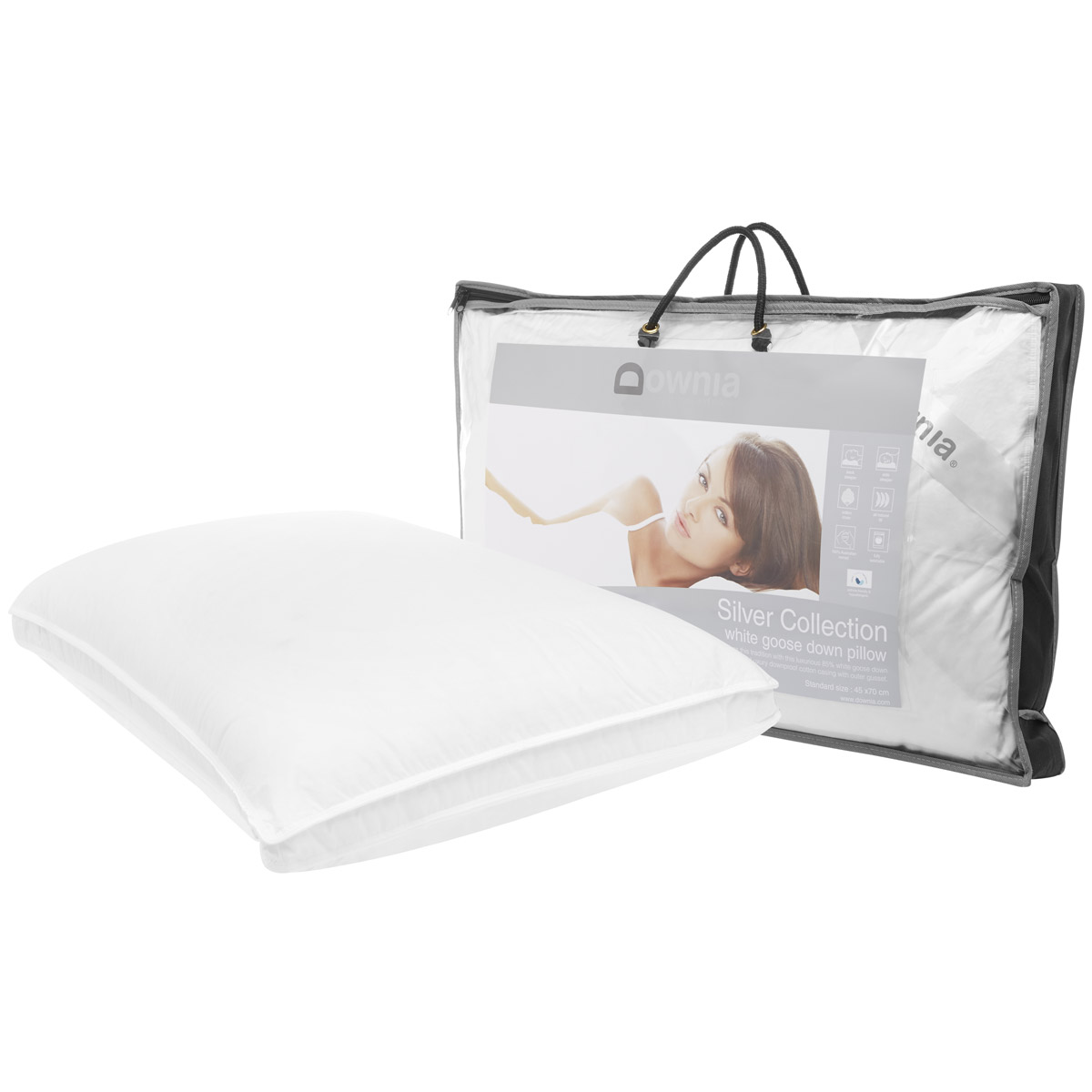 Hypoallergenic and Asthma-friendly
The Downia Silver Collection 85% White Goose Down Pillow is fully washable. The pillow is thoroughly tested for harmful substances according to Oeko-Tex Standard 100, among the highest standards in the bedding industry.
All Downia down bedding is hypoallergenic and asthma-friendly, courtesy of a unique sanitizing process that uses 12 cycles of washing and rinsing to remove allergens, dust, and bacteria. Downia feather and down products are endorsed by the Asthma and Respiratory Foundation of New Zealand.
Since 1911
Asthma Friendly
Fully Washable
| Size | Fill | Weight |
| --- | --- | --- |
| Standard Soft | 85% down/ 15% feather | 600 grams |
| Standard Medium | 70% down/ 30% feather | 730 grams |
| Standard Firm | 55% down/ 45% feather | 930 grams |
About Downia
The Downia Group of Companies has its heritage dating back to 1911 when the first feather and down processing plant was established in Glebe, Sydney and in 1937 the operating company, Australian Feather Mills Pty Ltd, was incorporated.
Today the Downia Group of Companies are leading suppliers of a complete range of bedroom products that principally use feather and down fillings and a variety of luxury manmade and natural fibres.
| | |
| --- | --- |
| Pillow Size | Standard |
| Fill Type | Goose Down and Feather |
| Pillow Profile | Medium Profile |
| Material | White Goose Down |
| Shape | Classic |
| Cover | Down proof cotton cove |
| Manufacturer's Warranty | 5 Years |
| Manufacturer | Downia |
Customer Reviews
Share your thoughts with other customers
M
Review by
Mark K
Verified Review
Very soft and thin
I ordered the medium, I found it to be much softer than you would expect and very thin compared to other high end pillows
(Posted on )
m
Review by
molley
Verified Review
Amazing!!!
After trying so many other pillows I decided to splash out ! Wow ...I am so glad I did ....best pillow. I'm now having the best sleep...super comfortable. Soft I'm totally in love with it ! Going to get another...service and postage also spot on
(Posted on )
J
Review by
JUDITH KWIATEK
Verified Review
Pillow cases to fit
The Best. Just need to find a larger pillow case to fit. Standard makes pillow too tight. Any suggestions?
(Posted on )
R
Review by
Robert Born
Verified Review
Fantastic product!
Love our pillows we now sleep so well. Would highly recommend them.
(Posted on )
A
Review by
Amy
Verified Review
so soft springs right back
Can believe the difference between normal pillow to goose down never go back!
(Posted on )
Write Your Own Review for Downia Silver Collection 85% White Goose Down Pillow
sleepsolutions.com.au
About this page
Store ratings are based on customer reviews and other data from Google and/or its partners.
Information on shipping, returns, and support is based on customer reviews and surveys, and sometimes provided directly by sellers. Learn more
Based on customer reviews and data from Google and/or its partners.
What people are saying
Yesterday on Google Customer Reviews

3 days ago on Google Customer Reviews

Great customer service , along with prompt delivery of a quality product. Veery pleased Sleep Solutions accept Pay Pal also.

6 days ago on Google Customer Reviews

The Services is professional excellent, thank you ! However this time the products very disappointing (Sound Oasis SP-101), its volume is too small must turns on all sound volumes to maximal (on TV & Speakers) just able to hear small sound, not efficient design né, what can I do ? ????????) . I prefer Pillow Speaker PS-300 (I bought separately) excellent product ! Thank you. ????????????

6 days ago on Google Customer Reviews

Love my new eye mask! Came quick as too

1 week ago on Google Customer Reviews