AirTamer Advanced Necklace Personal Air Purifier A315
Quick Overview
May protect you from catching colds and the flu when travelling
Reduces allergies, cigarette smoke, pollen, dust mites, viruses, germs and other airborne allergens
State-of-the-art high-performance personal ionizing technology
Stylish, ultra-compact and perfect for travel by airplane, train, bus or car
Rechargeable - and lasts for over 30 hours
AirTamer Advanced Personal Air Purifier A315
Outstanding Rechargeable Travel Air Purifier
Imagine a personal ionic air purifier that not only creates a personalized zone of cleaner, fresher, healthier air, but one you can also recharge whenever you like via a simple USB connection. That dream is now a reality with the incredible AirTamer A315.
Can AirTamer remove viruses from the air?
Yes. In 2018, the prestigious Kitasato Research Center for Environmental Science in Japan tested AirTamer with an Escherichia Coli virus. AirTamer successfully reduced 99% of the virus from the test chamber within 20 minutes.
Can AirTamer remove cigarette smoke from the air?
Yes. We actually test the AirTamer with smoke in test labs since smoke particles are so small and represent a great test particle. AirTamer is very effective at reducing smoke. AirTamer has been independent laboratory proven to reduce 99% of smoke from the air in 5 minutes.
Does AirTamer work with VOCs, like perfume, etc.?
Yes. VOCs are very small particles and AirTamer will help alleviate allergic issues related to VOCs by keeping the VOC particles away from your breathing space. In one Japan laboratory test, AirTamer reduced VOC levels by 52% in just 8 minutes.
Does AirTamer produce dangerous levels of ozone?
No. We at AirTamer are sensitive to the fact that cleaning the air should not produce unsatisfactory levels of ozone, so we test for ozone emission. AirTamer produces no measurable amount of ozone. In fact, AirTamer was tested to the California (CARB) standard for air purifier ozone emission, and AirTamer was given an ozone emission rate of zero.
Wave Goodbye To Allergens And Illness
Sit back and enjoy your journey, safe in the knowledge that this rechargeable air ionizer is working hard to eliminate viruses, germs, dust mites, pollen, cigarette smoke and allergens from your personal space.
Reduces your exposure to pollutants and harmful chemicals

Helps avoid Ebola, influenza, infections or serious medical complications that can arise from exposure to poor air quality, especially if your immune system is already compromised

Helps lessen the damaging effects of cigarette smoke as well as reduce allergies

Pollen allergies will be a thing of the past!
Compact And Versatile Design Perfect For Travel
This rechargeable personal air purifier is so discreet and compact that it will be an utter pleasure to use. You'll barely even notice that it's there.
Lightweight and Compact Design - Weighs less than 50 grams and is smaller than most mp3 players

Choose the best usage method for your needs: hanging from your neck (strap included), clipped to your clothing or stood on any surface

Lasts more than 30 hours on just one charge

Approved for Airplane use with FFC certificate

Ultra-compact and perfect for travel by airplane, train, bus or car
State-Of-The-Art Technology
Creates a 3 foot sphere of cleaner, healthier air around your head. It cleans the air of atomic sized pollutants:
Viruses
Pollen
Smoke
Molds
Dust mites
that traditional air purifiers (e.g. HEPA) leave behind.
It uses ground-breaking technology which converts electricity into millions of healthy negative ions. These are then pushed out through the small brush on the top of the device, capturing any potentially- harmful airborne particles that can cause irritation or ill health.
Hassle-Free And Eco-Friendly
With no batteries to replace and no hassle of cleaning or replacing filters, you could say that this purifier is the perfect solution for every earth-conscious individual. It's energy-efficient, effortless to maintain and won't fail to impress.
Simple to recharge via USB cable (included)

Effortless to maintain- no messy filters to clean or replace

Energy-efficient green LED indicator light shows when it's cleaning your air

Power Boost Technology for 9 x more cleaning power
Silent Operation
No Filters to Replace
30 Hours Runtime
Better cleaning power than the competition
World's Most Effective Personal Air Purifier - AirTamer has been tested all over the world by internationally recognized, independent laboratories. In fact, AirTamer is the only personal air purifier to be tested on viruses. The following summarizes some of the tests we have done so you can be sure that we stand behind AirTamer:
Virus Testing
Independent testing at the prestigious Kitasato Research Center in Japan confirmed that AirTamer Removes 99% of viruses from the air within 20 minutes.
AIRTAMER IS PROVEN TO ELIMINATE 99% OF VIRUSES* IN 20 MINUTES
*Virus reduction testing by internationally recognized laboratory using Escherichia coli phag MS2 NBRC 102619 virus.
*See full test results for AirTamer performance in eliminating Viruses, Smoke, and Volatile Organic Compounds (VOCs)
Your AirTamer contains a rechargeable lithium battery (3.7V, 135 mAh type). Under normal use, you will experience about 30 hours of run time on one charge. To charge your AirTamer A315, please follow these directions:
Ensure the ON/OFF BUTTON is turned "ON" by pressing the ON/OFF BUTTON. When your AirTamer is OFF, no green light is flashing.


Plug the small end of the included USB CHARGING CABLE into the AirTamer's USB PORT. Plug the larger end of the USB CHARGING CABLE into any powered USB PORT (e.g. on a computer, wall charger, etc.) The AirTamer ON/OFF BUTTON will show a bright red light when it is charging. Normal charging time is about 2 - 3 hours.


When your AirTamer is fully charged, the red charge indicator will show a dim red light. When you turn the unit on by pressing the ON/OFF BUTTON, 4 green indicator lights will flash on the ON/OFF BUTTON.
Protect your investment
Purchase a leather case designed specifically for your AirTamer Personal Air Purifier
Buy Now
Frequently Asked Questions
Q: Can I wash the lanyard of my AirTamer & what is it made of?
A: Yes, it can be washed and placed in the drier (low heat). The material is conductive synthetic polyester with some silver.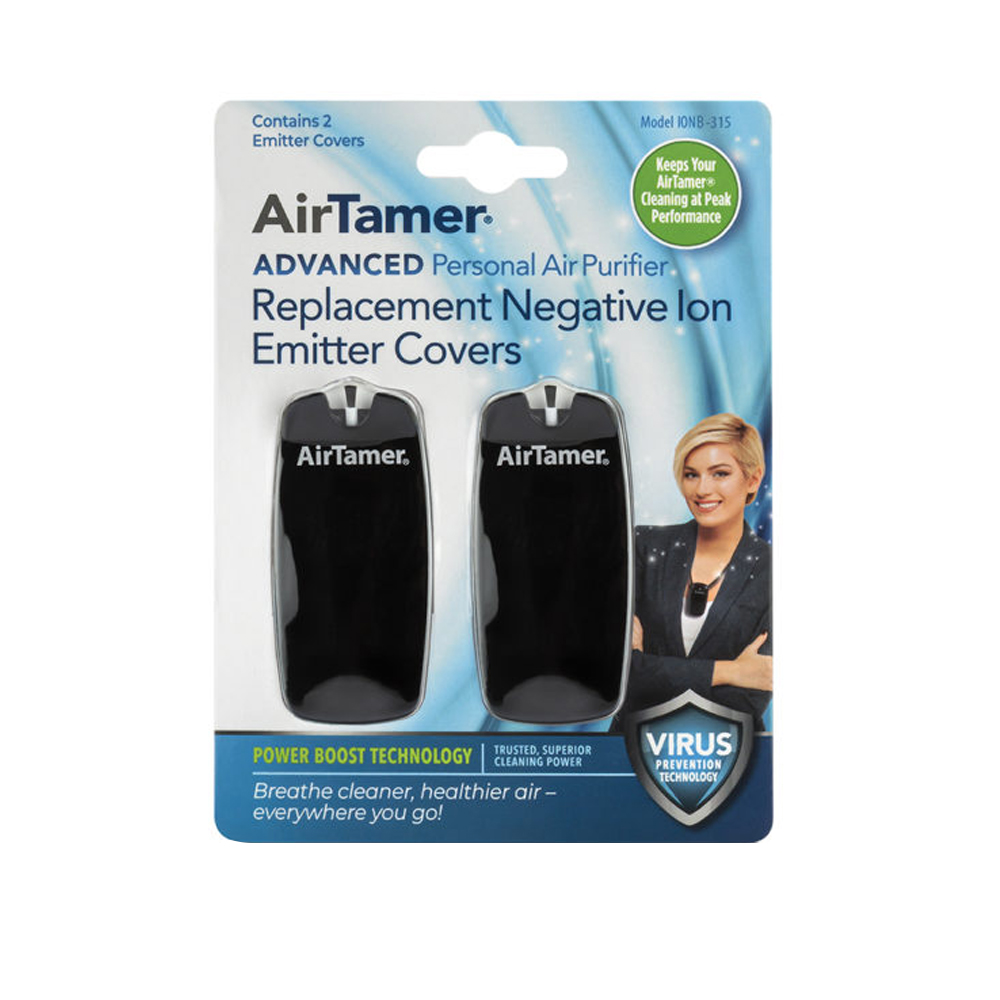 Compare AirTamer Models
| | | | | |
| --- | --- | --- | --- | --- |
| | | | | |
| | AirTamer A302 | AirTamer A310 | AirTamer A315 | AirTamer A320 |
| Negative Ions cm3 | > 2 million | > 2 million | > 2.2 million | > 2.1 million |
| Power Type | 2 x CR2025 Lithium | Built-In Rechargeable Lithium | Built-In Rechargeable Lithium | Built-In Rechargeable Lithium |
| Run Time | 140 hours | 150+ hours | 30 - 40 hours | 150+ hours |
| Charge Time | - | 4 - 6 hours | 1 - 2 hours | 2 - 3 hours |
| Charging USB Cable | - | ✔ | ✔ | ✔ |
| Replaceable Emitter Cover | - | - | ✔ | ✔ |
| Pocket Clip | ✔ | - | ✔ | ✔ |
| Weight | 50.0 grams | 51.6 grams | 39.9 grams | 65.9 grams |
| Travel Case | Yes - Metal Case | Yes - Metal Case | Yes - Deluxe Hard Case | Yes - Leatherette Case |
| | View | View | You are viewing this product | View |
More Information

| | |
| --- | --- |
| Coverage | 1 metre sphere |
| Technology | Electrostatic purification |
| Power | Rechargeable - 30 hours of run time on one charge |
| Inclusions | Charging USB cable and a case |
| Manufacturer's Warranty | 1 year |
| Manufacturer | AirTamer |
Customer Reviews
Share your thoughts with other customers
A315 excellent health outcomes, weak magnet attachment for the emitter fell off easily and was lost

Part A.
This model was recommended to me by a friend. I waited a while before buying because it was expensive. I have now been wearing it 4 weeks and would definitely recommend it for easier breathing, especially when I'm sitting still eg on the bus or in a toxic environment (eg cigarette smoke, perfumes, dust.) I do breathe more easily. 5/5 BUT
Part B
So, I've been wearing it 4 weeks and the magnetised ion emitter cover was detached and lost yesterday. Admittedly, the replacement is not too expensive $AU32.94 incl postage for 2 "replacement negative ion emitter covers". Personally, I think the weak magnets are a design fault. I also think the Sleep Solutions supervisor missed an opportunity for any goodwill and courtesy. It sounded like a call centre which was disinterested in the customer. Even if they'd said "I'd like to offer you a discount but there's no margin" that would have been welcome.
When the new emitter cover arrives I will tape the cover and the pendant together so the magnetised cover cant be flicked off again. I am very disappointed with the poor service attitude and the easy loss of the emitter cover. 1/5
however the post did arrive the next day 5/5 (Posted on 22-07-2020)

I was sceptical but now Im convinced

I bought this product out of desperation with my extreme chemical sensitivities. Book ink affects my nose and causes pain and symptoms, but when I sit with the AirTamer around my neck I can comfortably read!! I havent found it as effective when I am moving around but when I am stationery I really notice the impact. So perfect for the car, planes, cafes etc. (Posted on 04-12-2019)

Faulty designed on strap and garment clip

I bought the device recently, only two and a half months ago. One day I wore it (with the strap on my neck like the necklace) and had the device clipped on my inner garment.

The garment clip was not detachable to the device and it came off. Because the strap was only attached to the device through the garment clip somehow, the strap was never securely attached to the device itself. The device dropped when I walked along the streets. I wasn't even aware until I found all I had left was the strap and the clip hanging.

I contacted the customer service and was advised to reattach the garment clip to the device. I told them there was no device to be reattached because it dropped off ! They also advised the clip was meant to be detachable . That's fine if the strap was assembled to the device itself, not through the clip!

I literally used the device for less than 2 months. For a premium priced product like this, the design is faulty and not acceptable!

If you still have the device , either wear it in a pocket or glue the clip or the strap to the device., or find a way to ensure u have it securely attach to yourself. (Posted on 11-08-2019)

Light weight and replaceable front cover is useful

Good design just a bit pricey (Posted on 26-04-2019)
Write Your Own Review for AirTamer Advanced Necklace Personal Air Purifier A315
AirTamerAPrfrA315